Just a reminder that today is the last day of my
give-away
.
--------------------------------
I've always been sceptical about virgin hair, especially because of the price, but I was just getting sick of beauty supply hair and wasting my money on it. I had scoured through the interenet trying to find UK sellers, watching reviews on YouTube, looking at pictures on Facebook pages, just so I could find the right one. We all know virgin hair ain't cheap, so I wanted to do my research so I won't buy any fake ones or hair that wasn't of the highest quality. I went out for dinner with a friend, who you can see in
this post
, she had the EbonyB Real Hair and it felt absolutely beautiful and I was literally dying over it, so I made immediate contact with the company.
DISCLAIMER: Just to clarify that the wavy hair is the one I paid for and the curly hair was the one I was sent to model for EbonyB's relaunch. If I mention "hair" I'm talking about the curly and the wavy and I have referred to the type of hair in particular if I said something specific relating to either just the curly or just the wavy.
Pros:
1. EbonyB deliver the best customer service, I always have bad experiences when ordering online, but the people at EbonyB were so helpful, especially when I was having issues with another buyer I initially wanted to buy from. I had contacted then on new Years Eve through Facebook, but didn't expect to get an answer until Monday, however they replied back to me within 10 minutes. I must say I was rather impressed. Facebook is the easiest way to contact them if you have any questions.
2. The hair I purchased was wavy and the hair I received from them, which I modelled was curly. I love the waving patterns in the hair, it's so pretty.
3. A big Pro with this hair is that when you use curling irons/tongs/wand on this hair the curls last for DAYS. I can curl my hair on Monday and it will stay in throughout the whole week. I find that it works best when you have tight curls and then let the curls drop throughout the week, day 3-5 it turns into a nice wavy pattern, which is my favourite.
4. The length of the hair is true to length if not longer. The hair when curly is true to it's length, but if you were to straighten the hair it would be like 2 inches longer.

5. The hair is at it's best in it's natural condition.

6. The compliments ;)


Cons:
1. Majority of the hair is soft to touch but I have experienced quite a bit of dryness with the the ends, I've been using all types of conditioners and different brands of Argan oil. I find in the morning it the hair feels abit rough, but when I put a bit of water and Argan oil through it, it feels softer. I had to take out one bundle of the curly and replaced it with the wavy I had bought, because it was quite frizzy the curls weren't defined and every time I brushed the hair the curls would disappear. That was only with one bundle, the rest of the three bundles were fine.
2. As I have been experiencing dryness with the ends, it also causing the hair to be more prone to tangling, so I can get my hands caught in my hair now and again when I run my hands through the hair.
3. I've also been experiencing shedding, when I looked at the weft construction of the hair when I first got it,I noticed that the weft construction wasn't the best and that it could be stronger, so I sealed my wefts. However, because my ends have been tangling I have been experiencing shedding when I brush and wash my hair and I can loose up to 10 strands.
4. A further issue I had was with the length of the wefts. The longer the inches of the hair the shorter the wefts, what I noticed was that my 14" was shorter than my 16" and 18". Having watched YouTube videos where YTgurus had shown hair they had received I always felt like the wefts where much longer than my own. Further to that I felt that the girls who had only installed 3 bundles looked so much fuller than my 4 bundles. I was also sceptical about the width of my 20", but I just dismissed it. However, when I'd received the hair I modelled I noticed that the 22" I received was double the length if not more compared to my 20" that I had bought previously.
------------------------------------------------------------
This is my first time trying virgin hair, so I don't know if the issues such as the dryness are common with Brazilian hair. DISCLAIMER: You also have to take into account that not all virgin hair is the same and that it is just my experience, if you have read all the feedback from the links I gave you, you can see that the majority if not all are positive. I will keep conditioning the hair and see if it the ends get better, because when I had felt my friends hair it was really soft, if the ends get softer and more manageable it will in turn decreases the shedding. I am finding the more I condition it and put Argan Oil through the hair the softer it has become.
My recommendations are if you buy the hair is to wet it slightly and use either serum and Argan oil, through it, that makes the hair softer and also find that the hair is better in it's natural condition. They recommended Frizz Ease products to me, most people use Herbal Essense Hello Hydration, which I have used but I actually prefer the Proclere Hydrating Argan Oil Masque which you can get from Superdrugs, it's really nice and thick and i feel like it does more, including to Argan oil it also has Coconut Oil, Avocado Oil, Castor Oil and Olive Oil.
The winning part of this hair are the wave/curl pattern of the hair, being able to curl the hair with heat, do big hair and Kim Kardashian style hair, use bendy roller curls, and have the curls last FOREVER. I can spend like an hour making sure the hair is on point, but then don't have to touch it for the rest of week.


If you look at EbonyB's
feedback page
you can see comments from customers as well as comments on their Facebook page, which are all very positive. Also
SugarPearlTV
has done reviews on their hair, she had used their hair for 7 months and 3 installs.
There is obviously a lot of positive feedback about the hair, so I just need to keep working with it.
EbonyB are relaunching their website, which is why I modelled for them. They had talks with their suppliers to talk about the quality of their hair and issues such as the wefts, as previously discussed. Their new stock of hair should be available at the end of February or beginning of March, which I would like to try.
14", 16", 18", 20"- Wavy
This is what it looked like at the end of the day when I had put Bendy Rollers in, click
here
to see the wavy hair in it's natural condition.
14", 16", 18", 20"- Wavy
Wavy hair when wet.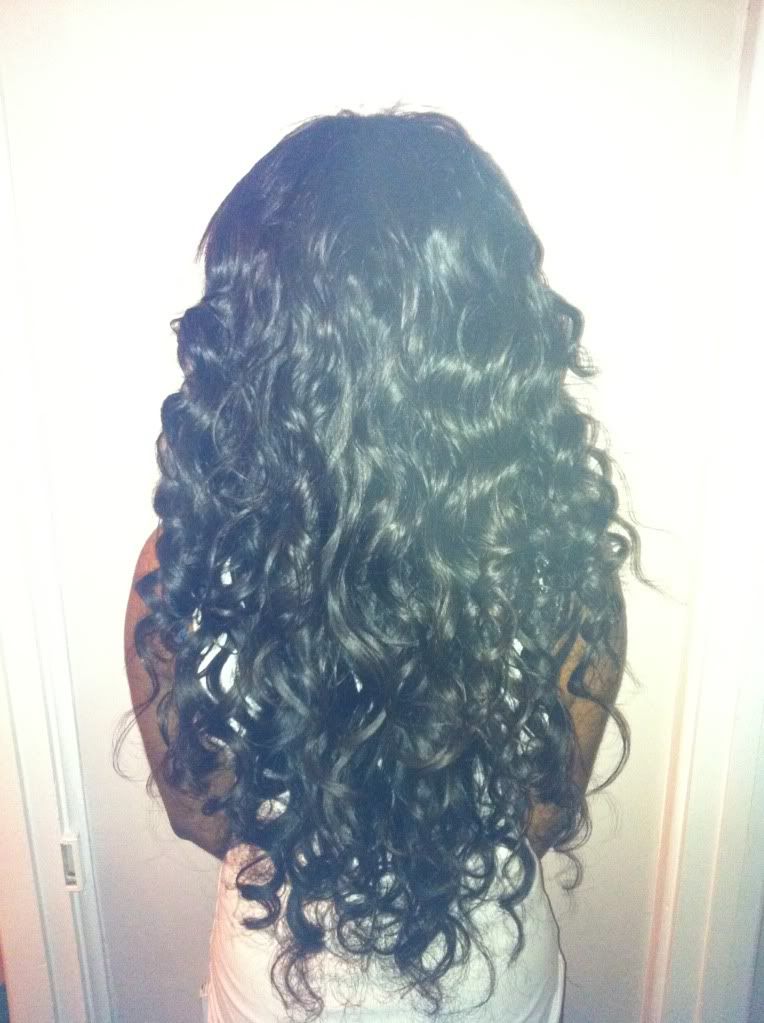 14", 26", 26"- Curly
18", 20"- Wavy
Sixth day after beeing curled with heat, click
here
to see the hair in it's natural condition.