With the rarity of the sun's appearence I relised how I actually didn't have any summer clothes. I made a quick dash to Primark to buy a few pieces, wasn't planning on spending crazy money, because who know how long this heat will last for. I posted a pic of my purchases on Instagram (@5inchheels) and this dress is one of them.
It's a back drop dress and I just love the colours and print on it. I accidentally burned it today. becaue I forgot to turn the heat of the iron down. I always do this when it comes to Primark and this specific material.
Hate spending money on stupid mistakes, but I'm going to have to re-buy it cause I love it.
As you can see I ombre'd my hair, it was ombre'd in the last post as well, but not as obvious. As it was getting hotter and brighter I decided to go lighter.
Excuse my pale legs, they need some serious tanning.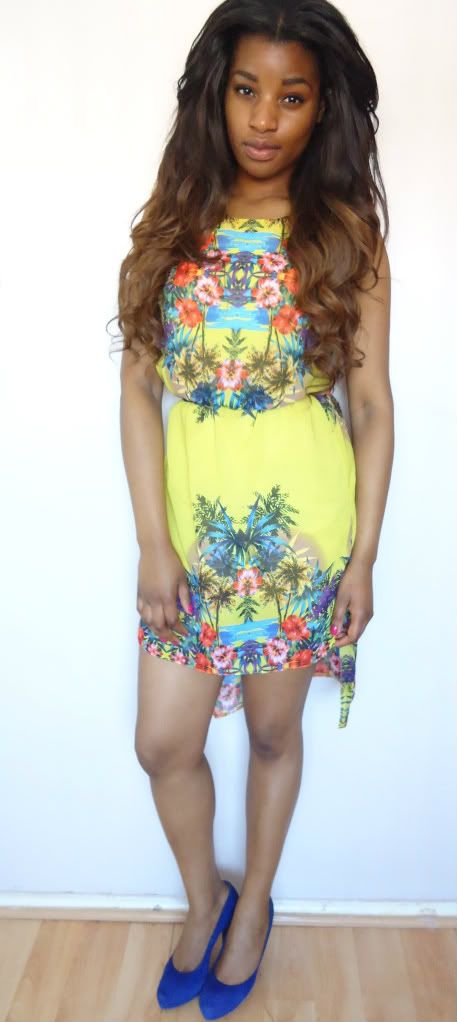 Dress:
Primark
Shoes:
Dune
I was asked about the course I studied at uni, I studied Retail Buying. They changed they course after my year, so I can't really tell you what the course is like now, but here is the
link
of my course and it will tell you all about the modules as well as requirements.
Just wanted to announce that Moje Makaze is the winner of my Vintage Dress give-away. I will contact you soon to get your details.